Let me preface this by saying I'm still exploring the UCP, it's one of the last things I'm exploring with FreePBX.
I set some users up in User Management. In the UCP tab, I assign them a template (in this case, a template with just the faxing in there).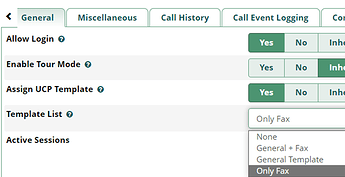 Then I head over to the UCP log in page to log in as the user. I am greeted by the screen that says there are no dashboards:

That's even though I set the template up, pressed Submit, and Apply Config. I have to click on the reset button in the UCP to get the template.

And then finally I get the template I want:

It's a few extra steps I don't mind doing myself, but I'm picturing some grumbling about extra steps if I ask users to do that to get their templates.
Any thoughts, or anything maybe I need to look out for in my settings?