EDIT:
the following services are currently down
(as of 11:00 Thursday, 2 March 2023 UTC)
mirror.freepbx.org
wiki.freepbx.org
wiki.sangoma.com
git.freepbx.org
issues.freepbx.org
pastebin.freepbx.org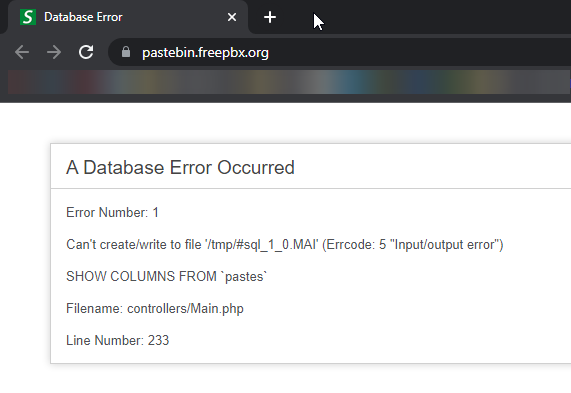 Taking the error at face value, it doesn't sound good. But maybe that's what you get if the disk is full.
Thanks for the update, Lorne.
Would it be possible to add these services to trust.sangoma.com ?
Thanks
I get a 503 Service Unavailable.
My merge didn't keep context, alas. The post from @orson is referring to wiki.freepbx.org for anyone who may be confused.
I get a 503 Service Unavailable.
[EDIT]
Seems like my topic [wiki freepbx org down] got merged with this one. To add more context to my message above:
wiki freepbx org is down - 503 Service Unavailable
wiki sangoma com is down - 503 Service Unavailable
Wiki and mirrors are down again.
Unable to update modules, v15:
503 Service Unavailable
No server is available to handle this request.
Did someone unplug something on their way out of the door

while they were being pushed!

I updated the subject of this thread so readers can easily find out whats up.
Do we have a time frame for this when it will be fixed ?
The responsible individuals are working on it right now and services are being restored.
They should now be restored and operational.
And they seem down again.
Just checked, back up again?
I wonder if the CEO was secretly maintaining their infrastructure lol. They 86 him and suddenly everything is unstable
Morning all. Wiki, Mirrors are down again… 503.
Edit: Mirrors OK now.
Wiki seems to be back up.
mirrors and the Jira (issues) still appears to be down.