Hi.
My setup is FreePBX (13.0.192.16) + Cisco Unified Call Manager Edition (CME).
I had created trunks on both. I can make calls in both directions. What I want is displaying callee name when I make call. I need Remote-Party-ID. On FreePBX I set
trustrpid=yes
sendrpid=rpid
in extension properties and in trunk properties.
If I make call from FreeBPX to CME then trasfering Remote-Party-ID to caller phone works normally.
If I make call from CME to FreePBX it doesn't work.
While SIP debug I see that picture: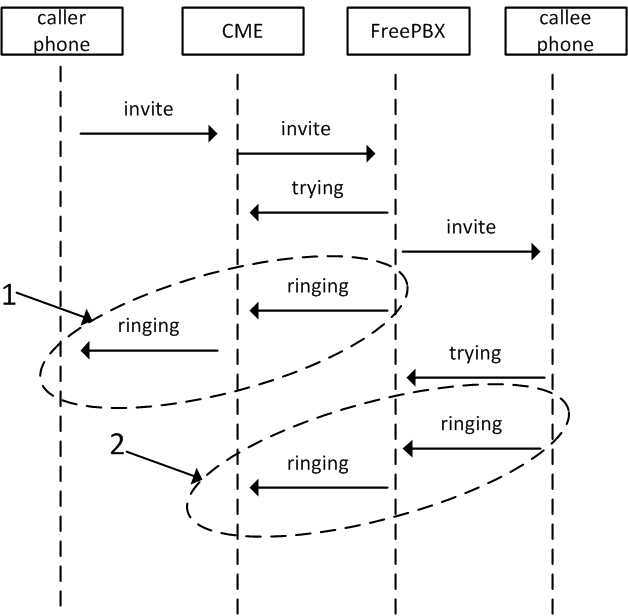 In point 1: FreePBX sends SIP ringing (180) WITHOUT Remote-Party-ID to CME. CME forwards this sip-ringing to caller phone adding Remote-Party-ID containing only phone number. Caller phone gets Ringing with Remote-Party-ID which contains number but DOESN'T contain name.
In point 2: called phone send SIP ringing (180) WITH Remote-Party-ID (containing proper name) to FreePBX. FreePBX forwards this sip-ringing to CME, but CME doesn't forward this message to caller phone.
I debug local call on FreePBX (between two phones registered on FreePBX). During local call FreePBX send proper Remote-Party-ID in very first ringing(180) sip-message.
How can I get the FreePBX to include the proper Remote-Party-ID in first ringing (180) sent to trunk in point 1 ?