I'm a student and for my academic project I test capabilities of VoIP telephony. I've set up freePBX, SIP trunk and Zoiper client. I'm able to connect to various phone numbers, mobile and regional polish numbers (for the purpose of my academic project I've chosen my home country) via WebDialer utility using Telnyx:
And I was able to connect numbers with polish country codes using freePBX but not mobile numbers which is very important for my project.
Today after some changes to Outbound route I'm not able to connect to neither regional and mobile numbers.
I think that the only issue is with Outbound routes but I'm new to freePBX and don't know what exactly need to be changed. I will be grateful for any advice.
Configuration:
General

SIP trunk using Telnyx with Finland number: +358-3-XXXXXXXX

FreePBX on local machine in VirtualBox. FreePBX version: 15.0.23. Asterisk version: 16.24.1

Zoiper on the same machine as FreePBX.
This is how I do test call:
For example let's take number of mobile and Internet provider T-mobile (t-mobile[.]pl/c/kontakt)
Regional: 224136996
Mobile: 602900000
When calling from Telnyx WebDialer utility I'm able to call those numbers normally.
When calling those number from using Zoiper I can hear following information: "All circuits are busy now, please try your call again later". Error Service Unavailable (code: 503)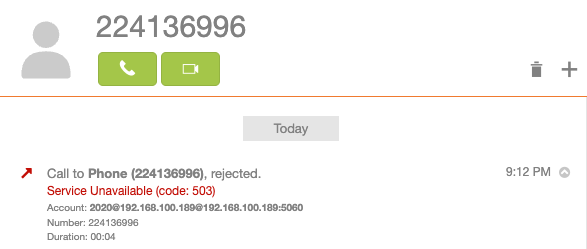 PS. There is so many deleted comments because as a new user I could post images only in separate posts. Now I can do it in one and I've decided to make it one post.