Hi guys,
Cannot figure this out on my own.
I did some reconfigurations for my extensions and call handlings recently and noticed that my ATA adapter with ISP PSTN number no longer works for outgoing call. If I call out from designated IP phone it uses my SIP trunk, which is expected because Outbound routes have other SIP trunks.
Here are the Asterisk logs I observe:
[2022-08-30 12:13:28] WARNING[51836] res_pjsip_registrar.c: AOR '' not found for endpoint 'spectrum'
[2022-08-30 12:13:51] WARNING[47992] res_pjsip_outbound_registration.c: '405' fatal response received from 'sip:10.100.20.5:5060' on registration attempt to 'sip:PSTN #(hidden)@10.100.20.5<—this is my grandstream adapter LAN IP:5060', retrying in '30' seconds
SNGREP screenshot: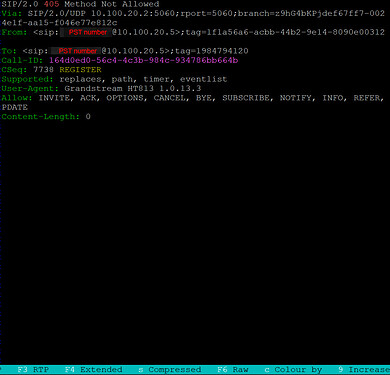 Asterisk info for pjsip shows this: spectrum/sip:10.100.20.5:5060 spectrum Rejected
Can anyone point me please to the direction where I should look at?
Note: I checked Grandstream itself, no settings were altered from the past.
Few things changed:
ISP increased the speed, I rebooted modem.
On FreePBX, changed some extensions, IVR's.
Thank you.