Hello,
My Property Manager module isn't recording Calls, it shows guest placed 0 calls and doesn't invoice.
Hello
# Version : 15.0.2.47
Using it from the module manager with the free license
I set it up correctly
weird.
I will test it. But you should get invoice anyway, without or without calls.
That wanna say, it should have an issue somewhere with settings.
Sorry let me rephrase ,
It invoices for restaurant and room use just not calls.
Hmm ok Let me test.
Check if the extension for room is still from-pms and not from-internal
Would this be under "line context"
Extension / Advanced
- Edit Extension area
Context
This seems to have got it working a bit better
Had to set the context, set outbound route as emergency to test and I now get alerted and CoS works better
But it doesn't seem to be billing and shows 0 calls
Did you set billing rate and everything else like taxes …Etc?
Also check call duration if that's fine (> 0 second)
In CDR you should have something starting by pms- in accountcode.
accountcode = pms- + guest_id
Check if CDR data is matching context + accoutcode. It should return something
Hi, CDR report shows it's billing from the extension and not pms-x
Have you created rooms and General / Add room menu?
You have to declare taxes and models (room type) and next add rooms.
The room will be corectly defined with what you need.
Please don't play with extensions settings after that because the risk will be to break something.
One room added = from-pms context.
with a check in, the room will have accountcode = pms-guest_id. (pms-1)
Also a user will be created in User Manage under Property Management directory.
Each time you are calling, at the end of call, you should have something in accountcode refering to guest-id.
I will test it tomorrow morning (My timezone is in France) so…
Don't worry.
I'm pretty sure the problem come from your settings, but it maybe a bug as well.
I will update you asap.
Hi @cogenyk
We have tested it this morning and there's no issue.
The call is present into the invoice.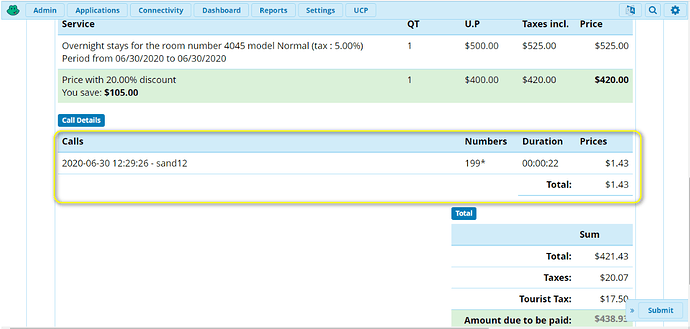 Please, remove all rooms and add them again.
Check the steps to install Property Manag. module with the link above.
However, if there has been a specific action to get this situation, please come back to me and let me know how to reproduce this problem.
A bug is possible in a specific case, why not.
Hello,
It seems to have been a weird error with something on my end. Recreated then extension and it works.
Ok Great.
Thanks for your feedback.
BTW, if one day you've got a problem with any room (ext) into user manager module, you can go to General / privileges / and submit whithout to change anything.
This action rebuild Property Management group for each one of bad extension settings related with this group.
Have a good day

This topic was automatically closed 31 days after the last reply. New replies are no longer allowed.