I have a Raspberry Pi3 with FreePBX 15 installed using the last image found of 10.10.20.img that I have installed OK. I would like to know if it's worthwhile upgrading to 16, but to do that I will need to upgrade PHP to 7.4.
I understand that although 7.4 isn't supported, that FreePBX 16 won't work correctly unless it's 7.4.
I've run the requirements script and I get the following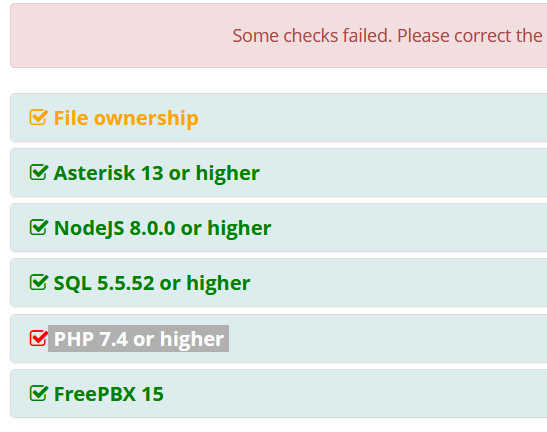 I'm guessing that the file ownership isn't that serious as I've followed the tips online to check that it's OK.
Can anyone kindly give me the command line codes to upgrade to PHP 7.4 please?.
Was there any other way to update / upgrade the Raspberry Pi from the original release of 15 as looking on line is a little confusing and it seems that using a Pi has it's limitations.