Hi! I'm having the typical trouble and I believe I have to open ports on my Windows firewall, but I need help figuring out which ones.
This is an outgoing call from a Blink softphone on my internal network, to an external Linhome app on my mobile phone.
My Linhome rings, I am able to answer the call, and audio is heard from the mobile to the internal extension, but not the other way around.
If I completely bring down my Windows firewall, the call works well with two way audio.
I obfuscated anything that is worth obfuscating.
The calling Blink softphone is using extension 225, and it's calling number 291, defined as PJSIP/mysipaccount@LinHome_Pgr. That trunk is defined like this: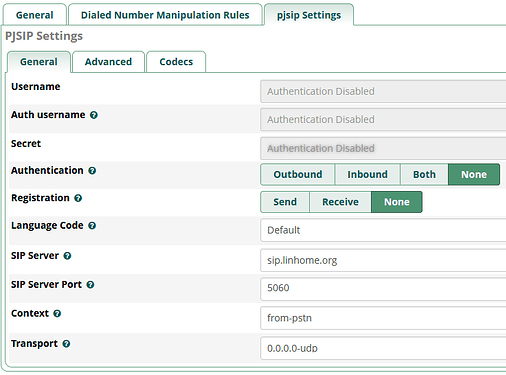 My FreePBX is 10.0.0.10.
Here's the SIP trace:
freepbx*CLI>
freepbx*CLI>
freepbx*CLI>
freepbx*CLI> pjsip set logger on
PJSIP Logging enabled
<--- Transmitting SIP request (403 bytes) to UDP:10.0.0.2:5072 --->
OPTIONS sip:[email protected]:5072 SIP/2.0
Via: SIP/2.0/UDP 10.0.0.10:5060;rport;branch=z9hG4bKPj27f13642-41ac-4e13-becf-63f6966046f4
From: <sip:[email protected]>;tag=e34cae45-bbfc-4236-b84b-15ba7bb387fa
To: <sip:[email protected]>
Contact: <sip:[email protected]:5060>
Call-ID: fddf832b-9abb-45a9-8319-0b4480bf1a25
CSeq: 60970 OPTIONS
Max-Forwards: 70
User-Agent: FPBX-16.0.40.7(18.19.0)
Content-Length:  0


<--- Received SIP response (473 bytes) from UDP:10.0.0.2:5072 --->
SIP/2.0 200 OK
Via: SIP/2.0/UDP 10.0.0.10:5060;rport=5060;branch=z9hG4bKPj27f13642-41ac-4e13-becf-63f6966046f4
From: <sip:[email protected]>;tag=e34cae45-bbfc-4236-b84b-15ba7bb387fa
To: <sip:[email protected]>;tag=5278390
Call-ID: fddf832b-9abb-45a9-8319-0b4480bf1a25
CSeq: 60970 OPTIONS
Supported: replaces, path, timer, eventlist
User-Agent: Grandstream HT818 1.0.45.2
Allow: INVITE, ACK, OPTIONS, CANCEL, BYE, SUBSCRIBE, NOTIFY, INFO, REFER, UPDATE
Content-Length: 0


<--- Received SIP request (965 bytes) from UDP:10.0.0.32:63280 --->
INVITE sip:[email protected] SIP/2.0
Via: SIP/2.0/UDP 10.0.0.32:63280;rport;branch=z9hG4bKPj4134663d0bce49289a1b5349bc2b2c9c
Max-Forwards: 70
From: "225" <sip:[email protected]>;tag=b0f123ddd39f486d8520f43179902d42
To: <sip:[email protected]>
Contact: <sip:[email protected]:63280>
Call-ID: 3c2cc841adf147cfa4086e98f9fb1e4e
CSeq: 26206 INVITE
Allow: SUBSCRIBE, NOTIFY, INVITE, ACK, BYE, CANCEL, UPDATE, MESSAGE, REFER
Supported: replaces, norefersub, gruu
User-Agent: Blink 3.2.0 (Windows)
Content-Type: application/sdp
Content-Length:   419

v=0
o=- 3908693585 3908693585 IN IP4 10.0.0.32
s=Blink 3.2.0 (Windows)
t=0 0
m=audio 50048 RTP/AVP 113 9 0 8 101
c=IN IP4 10.0.0.32
a=rtcp:50049
a=rtpmap:113 opus/48000/2
a=fmtp:113 useinbandfec=1
a=rtpmap:9 G722/8000
a=rtpmap:0 PCMU/8000
a=rtpmap:8 PCMA/8000
a=rtpmap:101 telephone-event/8000
a=fmtp:101 0-16
a=zrtp-hash:1.10 031e52b53eca0bfbab506c0bd017873af13a52f9a54ece655bb3839c1ce1263d
a=sendrecv

<--- Transmitting SIP response (545 bytes) to UDP:10.0.0.32:63280 --->
SIP/2.0 401 Unauthorized
Via: SIP/2.0/UDP 10.0.0.32:63280;rport=63280;received=10.0.0.32;branch=z9hG4bKPj4134663d0bce49289a1b5349bc2b2c9c
Call-ID: 3c2cc841adf147cfa4086e98f9fb1e4e
From: "225" <sip:[email protected]>;tag=b0f123ddd39f486d8520f43179902d42
To: <sip:[email protected]>;tag=z9hG4bKPj4134663d0bce49289a1b5349bc2b2c9c
CSeq: 26206 INVITE
WWW-Authenticate: Digest realm="asterisk",nonce="1699704784/b3acc404941f90e745d3a29a0ca14bb9",opaque="0670044652b0e994",algorithm=MD5,qop="auth"
Server: FPBX-16.0.40.7(18.19.0)
Content-Length:  0


<--- Received SIP request (396 bytes) from UDP:10.0.0.32:63280 --->
ACK sip:[email protected] SIP/2.0
Via: SIP/2.0/UDP 10.0.0.32:63280;rport;branch=z9hG4bKPj4134663d0bce49289a1b5349bc2b2c9c
Max-Forwards: 70
From: "225" <sip:[email protected]>;tag=b0f123ddd39f486d8520f43179902d42
To: <sip:[email protected]>;tag=z9hG4bKPj4134663d0bce49289a1b5349bc2b2c9c
Call-ID: 3c2cc841adf147cfa4086e98f9fb1e4e
CSeq: 26206 ACK
User-Agent: Blink 3.2.0 (Windows)
Content-Length:  0


<--- Received SIP request (1252 bytes) from UDP:10.0.0.32:63280 --->
INVITE sip:[email protected] SIP/2.0
Via: SIP/2.0/UDP 10.0.0.32:63280;rport;branch=z9hG4bKPjfd65418a95424d989bde408c8374a166
Max-Forwards: 70
From: "225" <sip:[email protected]>;tag=b0f123ddd39f486d8520f43179902d42
To: <sip:[email protected]>
Contact: <sip:[email protected]:63280>
Call-ID: 3c2cc841adf147cfa4086e98f9fb1e4e
CSeq: 26207 INVITE
Allow: SUBSCRIBE, NOTIFY, INVITE, ACK, BYE, CANCEL, UPDATE, MESSAGE, REFER
Supported: replaces, norefersub, gruu
User-Agent: Blink 3.2.0 (Windows)
Authorization: Digest username="225", realm="asterisk", nonce="1699704784/b3acc404941f90e745d3a29a0ca14bb9", uri="sip:[email protected]", response="275dac1adf47930635d9d13cdb7fa27e", algorithm=MD5, cnonce="f489103f7fdb46489dec2b68a9a751cc", opaque="0670044652b0e994", qop=auth, nc=00000001
Content-Type: application/sdp
Content-Length:   419

v=0
o=- 3908693585 3908693585 IN IP4 10.0.0.32
s=Blink 3.2.0 (Windows)
t=0 0
m=audio 50048 RTP/AVP 113 9 0 8 101
c=IN IP4 10.0.0.32
a=rtcp:50049
a=rtpmap:113 opus/48000/2
a=fmtp:113 useinbandfec=1
a=rtpmap:9 G722/8000
a=rtpmap:0 PCMU/8000
a=rtpmap:8 PCMA/8000
a=rtpmap:101 telephone-event/8000
a=fmtp:101 0-16
a=zrtp-hash:1.10 031e52b53eca0bfbab506c0bd017873af13a52f9a54ece655bb3839c1ce1263d
a=sendrecv

<--- Transmitting SIP response (347 bytes) to UDP:10.0.0.32:63280 --->
SIP/2.0 100 Trying
Via: SIP/2.0/UDP 10.0.0.32:63280;rport=63280;received=10.0.0.32;branch=z9hG4bKPjfd65418a95424d989bde408c8374a166
Call-ID: 3c2cc841adf147cfa4086e98f9fb1e4e
From: "225" <sip:[email protected]>;tag=b0f123ddd39f486d8520f43179902d42
To: <sip:[email protected]>
CSeq: 26207 INVITE
Server: FPBX-16.0.40.7(18.19.0)
Content-Length:  0


<--- Transmitting SIP response (853 bytes) to UDP:10.0.0.32:63280 --->
SIP/2.0 183 Session Progress
Via: SIP/2.0/UDP 10.0.0.32:63280;rport=63280;received=10.0.0.32;branch=z9hG4bKPjfd65418a95424d989bde408c8374a166
Call-ID: 3c2cc841adf147cfa4086e98f9fb1e4e
From: "225" <sip:[email protected]>;tag=b0f123ddd39f486d8520f43179902d42
To: <sip:[email protected]>;tag=9eaa2aea-c210-4418-960f-1352af82639e
CSeq: 26207 INVITE
Server: FPBX-16.0.40.7(18.19.0)
Contact: <sip:10.0.0.10:5060>
Allow: OPTIONS, INVITE, ACK, BYE, CANCEL, UPDATE, PRACK, REGISTER, SUBSCRIBE, NOTIFY, PUBLISH, MESSAGE, REFER
Content-Type: application/sdp
Content-Length:   279

v=0
o=- 3908693585 3908693587 IN IP4 10.0.0.10
s=Asterisk
c=IN IP4 10.0.0.10
t=0 0
m=audio 18354 RTP/AVP 0 8 9 101
a=rtpmap:0 PCMU/8000
a=rtpmap:8 PCMA/8000
a=rtpmap:9 G722/8000
a=rtpmap:101 telephone-event/8000
a=fmtp:101 0-16
a=ptime:20
a=maxptime:150
a=sendrecv

CALLERID 225 is calling 291
<--- Transmitting SIP response (917 bytes) to UDP:10.0.0.32:63280 --->
SIP/2.0 183 Session Progress
Via: SIP/2.0/UDP 10.0.0.32:63280;rport=63280;received=10.0.0.32;branch=z9hG4bKPjfd65418a95424d989bde408c8374a166
Call-ID: 3c2cc841adf147cfa4086e98f9fb1e4e
From: "225" <sip:[email protected]>;tag=b0f123ddd39f486d8520f43179902d42
To: <sip:[email protected]>;tag=9eaa2aea-c210-4418-960f-1352af82639e
CSeq: 26207 INVITE
Server: FPBX-16.0.40.7(18.19.0)
Allow: OPTIONS, INVITE, ACK, BYE, CANCEL, UPDATE, PRACK, REGISTER, SUBSCRIBE, NOTIFY, PUBLISH, MESSAGE, REFER
Contact: <sip:10.0.0.10:5060>
P-Asserted-Identity: "Linhome (Available)" <sip:[email protected]>
Content-Type: application/sdp
Content-Length:   279

v=0
o=- 3908693585 3908693587 IN IP4 10.0.0.10
s=Asterisk
c=IN IP4 10.0.0.10
t=0 0
m=audio 18354 RTP/AVP 0 8 9 101
a=rtpmap:0 PCMU/8000
a=rtpmap:8 PCMA/8000
a=rtpmap:9 G722/8000
a=rtpmap:101 telephone-event/8000
a=fmtp:101 0-16
a=ptime:20
a=maxptime:150
a=sendrecv

<--- Transmitting SIP request (1015 bytes) to UDP:147.135.128.132:5060 --->
INVITE sip:[email protected]:5060 SIP/2.0
Via: SIP/2.0/UDP 10.0.0.10:5060;rport;branch=z9hG4bKPjfcd4a473-d6ae-42f1-901d-95643ee76b2b
From: "Hall" <sip:[email protected]>;tag=16ddc5e0-7fe5-447e-8452-a2c84115613e
To: <sip:[email protected]>
Contact: <sip:[email protected]:5060>
Call-ID: b1fcc222-dbe3-464c-aebc-e4a9c4b3a217
CSeq: 13693 INVITE
Allow: OPTIONS, INVITE, ACK, BYE, CANCEL, UPDATE, PRACK, REGISTER, SUBSCRIBE, NOTIFY, PUBLISH, MESSAGE, REFER
Supported: 100rel, timer, replaces, norefersub, histinfo
Session-Expires: 1800
Min-SE: 90
Max-Forwards: 70
User-Agent: FPBX-16.0.40.7(18.19.0)
Content-Type: application/sdp
Content-Length:   331

v=0
o=- 661279731 661279731 IN IP4 10.0.0.10
s=Asterisk
c=IN IP4 10.0.0.10
t=0 0
m=audio 19742 RTP/AVP 0 8 9 3 111 101
a=rtpmap:0 PCMU/8000
a=rtpmap:8 PCMA/8000
a=rtpmap:9 G722/8000
a=rtpmap:3 GSM/8000
a=rtpmap:111 G726-32/8000
a=rtpmap:101 telephone-event/8000
a=fmtp:101 0-16
a=ptime:20
a=maxptime:150
a=sendrecv

<--- Received SIP response (451 bytes) from UDP:147.135.128.132:5060 --->
SIP/2.0 100 Trying
Via: SIP/2.0/UDP 10.0.0.10:5060;rport=5060;branch=z9hG4bKPjfcd4a473-d6ae-42f1-901d-95643ee76b2b;received=85.123.123.123
Record-Route: <sip:147.135.128.132:5060;lr>
From: "Hall" <sip:[email protected]>;tag=16ddc5e0-7fe5-447e-8452-a2c84115613e
To: <sip:[email protected]>
Call-ID: b1fcc222-dbe3-464c-aebc-e4a9c4b3a217
CSeq: 13693 INVITE
Server: Flexisip/2.3.2-20-g4278b108 (sofia-sip-nta/2.0)
Content-Length: 0


<--- Received SIP response (352 bytes) from UDP:147.135.128.132:5060 --->
SIP/2.0 110 Push sent
Via: SIP/2.0/UDP 10.0.0.10:5060;rport=5060;branch=z9hG4bKPjfcd4a473-d6ae-42f1-901d-95643ee76b2b;received=85.123.123.123
From: "Hall" <sip:[email protected]>;tag=16ddc5e0-7fe5-447e-8452-a2c84115613e
To: <sip:[email protected]>
Call-ID: b1fcc222-dbe3-464c-aebc-e4a9c4b3a217
CSeq: 13693 INVITE
Content-Length: 0


<--- Received SIP response (543 bytes) from UDP:147.135.128.132:5060 --->
SIP/2.0 180 Ringing
Via: SIP/2.0/UDP 10.0.0.10:5060;received=85.123.123.123;rport=5060;branch=z9hG4bKPjfcd4a473-d6ae-42f1-901d-95643ee76b2b
Record-Route: <sip:147.135.128.132:5060;lr>
From: "Hall" <sip:[email protected]>;tag=16ddc5e0-7fe5-447e-8452-a2c84115613e
To: <sip:[email protected]>;tag=lFD9l19
Call-ID: b1fcc222-dbe3-464c-aebc-e4a9c4b3a217
CSeq: 13693 INVITE
User-Agent: Linhome/1.2 (OnePlus Nord CE 5G) LinphoneSDK/5.2.65-pre.2+5688d2a (release/5.2)
Supported: replaces, outbound, gruu, path
Content-Length: 0


<--- Transmitting SIP response (917 bytes) to UDP:10.0.0.32:63280 --->
SIP/2.0 183 Session Progress
Via: SIP/2.0/UDP 10.0.0.32:63280;rport=63280;received=10.0.0.32;branch=z9hG4bKPjfd65418a95424d989bde408c8374a166
Call-ID: 3c2cc841adf147cfa4086e98f9fb1e4e
From: "225" <sip:[email protected]>;tag=b0f123ddd39f486d8520f43179902d42
To: <sip:[email protected]>;tag=9eaa2aea-c210-4418-960f-1352af82639e
CSeq: 26207 INVITE
Server: FPBX-16.0.40.7(18.19.0)
Allow: OPTIONS, INVITE, ACK, BYE, CANCEL, UPDATE, PRACK, REGISTER, SUBSCRIBE, NOTIFY, PUBLISH, MESSAGE, REFER
Contact: <sip:10.0.0.10:5060>
P-Asserted-Identity: "Linhome (Available)" <sip:[email protected]>
Content-Type: application/sdp
Content-Length:   279

v=0
o=- 3908693585 3908693587 IN IP4 10.0.0.10
s=Asterisk
c=IN IP4 10.0.0.10
t=0 0
m=audio 18354 RTP/AVP 0 8 9 101
a=rtpmap:0 PCMU/8000
a=rtpmap:8 PCMA/8000
a=rtpmap:9 G722/8000
a=rtpmap:101 telephone-event/8000
a=fmtp:101 0-16
a=ptime:20
a=maxptime:150
a=sendrecv

<--- Received SIP response (710 bytes) from UDP:147.135.128.132:5060 --->
SIP/2.0 183 Session progress
Via: SIP/2.0/UDP 10.0.0.10:5060;received=85.123.123.123;rport=5060;branch=z9hG4bKPjfcd4a473-d6ae-42f1-901d-95643ee76b2b
Record-Route: <sip:147.135.128.132:5060;lr>
From: "Hall" <sip:[email protected]>;tag=16ddc5e0-7fe5-447e-8452-a2c84115613e
To: <sip:[email protected]>;tag=lFD9l19
Call-ID: b1fcc222-dbe3-464c-aebc-e4a9c4b3a217
CSeq: 13693 INVITE
User-Agent: Linhome/1.2 (OnePlus Nord CE 5G) LinphoneSDK/5.2.65-pre.2+5688d2a (release/5.2)
Supported: replaces, outbound, gruu, path
Content-Type: application/sdp
Content-Length: 125

v=0
o=mysipaccount 2384 807 IN IP4 10.0.0.194
s=Talk
c=IN IP4 147.135.128.132
t=0 0
m=audio 16738 RTP/AVP 0 8
a=rtcp:16739

<--- Transmitting SIP request (449 bytes) to UDP:10.0.0.121:5060 --->
OPTIONS sip:[email protected]:5060;line=3e6c53ea6b849df SIP/2.0
Via: SIP/2.0/UDP 10.0.0.10:5060;rport;branch=z9hG4bKPj6cbf9f42-3bc3-4d6a-9cc9-ebad4ffa44fa
From: <sip:[email protected]>;tag=12f91ea1-e93c-4412-8865-aaac4c0fe106
To: <sip:[email protected];line=3e6c53ea6b849df>
Contact: <sip:[email protected]:5060>
Call-ID: 2a847e7a-2335-4c61-a191-093194c9e935
CSeq: 47564 OPTIONS
Max-Forwards: 70
User-Agent: FPBX-16.0.40.7(18.19.0)
Content-Length:  0


<--- Received SIP response (435 bytes) from UDP:10.0.0.121:5060 --->
SIP/2.0 200 OK
Via: SIP/2.0/UDP 10.0.0.10:5060;rport=5060;branch=z9hG4bKPj6cbf9f42-3bc3-4d6a-9cc9-ebad4ffa44fa
From: <sip:[email protected]>;tag=12f91ea1-e93c-4412-8865-aaac4c0fe106
To: <sip:[email protected];line=3e6c53ea6b849df>;tag=1064570313
Call-ID: 2a847e7a-2335-4c61-a191-093194c9e935
CSeq: 47564 OPTIONS
Allow: REGISTER, INVITE, ACK, CANCEL, OPTIONS, BYE, INFO, NOTIFY
User-Agent: 2N IP Verso 2.40.0.53.4
Content-Length: 0


<--- Transmitting SIP request (405 bytes) to UDP:10.0.0.122:5060 --->
OPTIONS sip:[email protected]:5060 SIP/2.0
Via: SIP/2.0/UDP 10.0.0.10:5060;rport;branch=z9hG4bKPj641d32fd-11d3-4eb2-9929-f4371e7a7ec5
From: <sip:[email protected]>;tag=f607590d-b3dd-400f-8008-594ea916fbc5
To: <sip:[email protected]>
Contact: <sip:[email protected]:5060>
Call-ID: 9d239c2c-aed5-490e-a3f1-19652e6a944b
CSeq: 702 OPTIONS
Max-Forwards: 70
User-Agent: FPBX-16.0.40.7(18.19.0)
Content-Length:  0


<--- Received SIP response (481 bytes) from UDP:10.0.0.122:5060 --->
SIP/2.0 200 OK
Via: SIP/2.0/UDP 10.0.0.10:5060;rport=5060;branch=z9hG4bKPj641d32fd-11d3-4eb2-9929-f4371e7a7ec5
From: <sip:[email protected]>;tag=f607590d-b3dd-400f-8008-594ea916fbc5
To: <sip:[email protected]>;tag=1078813181
Call-ID: 9d239c2c-aed5-490e-a3f1-19652e6a944b
CSeq: 702 OPTIONS
Supported: replaces, path, eventlist
User-Agent: Grandstream GXV3275 1.0.3.227
Allow: INVITE, ACK, OPTIONS, CANCEL, BYE, SUBSCRIBE, NOTIFY, INFO, REFER, UPDATE, MESSAGE
Content-Length: 0


freepbx*CLI> answer
No such command 'answer' (type 'core show help answer' for other possible commands)
freepbx*CLI>
freepbx*CLI>
freepbx*CLI>
freepbx*CLI>
<--- Transmitting SIP request (425 bytes) to UDP:147.135.128.132:5060 --->
OPTIONS sip:sip.linhome.org:5060 SIP/2.0
Via: SIP/2.0/UDP 10.0.0.10:5060;rport;branch=z9hG4bKPj26430b27-3e9f-4da1-8234-d13dc01123b6
From: <sip:[email protected]>;tag=35545c3a-1796-4aba-b5b1-0f348e36d746
To: <sip:sip.linhome.org>
Contact: <sip:[email protected]:5060>
Call-ID: ddee89e4-c48c-43ce-a448-3c0b5a0cd0db
CSeq: 37035 OPTIONS
Max-Forwards: 70
User-Agent: FPBX-16.0.40.7(18.19.0)
Content-Length:  0


<--- Received SIP response (346 bytes) from UDP:147.135.128.132:5060 --->
SIP/2.0 200 OK
Via: SIP/2.0/UDP 10.0.0.10:5060;rport=5060;branch=z9hG4bKPj26430b27-3e9f-4da1-8234-d13dc01123b6;received=85.123.123.123
From: <sip:[email protected]>;tag=35545c3a-1796-4aba-b5b1-0f348e36d746
To: <sip:sip.linhome.org>;tag=6cFDpt5D3yDjr
Call-ID: ddee89e4-c48c-43ce-a448-3c0b5a0cd0db
CSeq: 37035 OPTIONS
Content-Length: 0


<--- Received SIP response (974 bytes) from UDP:147.135.128.132:5060 --->
SIP/2.0 200 Ok
Via: SIP/2.0/UDP 10.0.0.10:5060;received=85.123.123.123;rport=5060;branch=z9hG4bKPjfcd4a473-d6ae-42f1-901d-95643ee76b2b
Record-Route: <sip:147.135.128.132:5060;lr>
From: "Hall" <sip:[email protected]>;tag=16ddc5e0-7fe5-447e-8452-a2c84115613e
To: <sip:[email protected]>;tag=lFD9l19
Call-ID: b1fcc222-dbe3-464c-aebc-e4a9c4b3a217
CSeq: 13693 INVITE
Contact: <sip:[email protected];gr=urn:uuid:faf74411-dd7c-00a3-8ac0-185056f63d2c>;+sip.instance="<urn:uuid:faf74411-dd7c-00a3-8ac0-185056f63d2c>";+org.linphone.specs="lime"
User-Agent: Linhome/1.2 (OnePlus Nord CE 5G) LinphoneSDK/5.2.65-pre.2+5688d2a (release/5.2)
Allow: INVITE, ACK, CANCEL, OPTIONS, BYE, REFER, NOTIFY, MESSAGE, SUBSCRIBE, INFO, PRACK, UPDATE
Supported: replaces, outbound, gruu, path
Content-Type: application/sdp
Content-Length: 125

v=0
o=mysipaccount 2384 808 IN IP4 10.0.0.194
s=Talk
c=IN IP4 147.135.128.132
t=0 0
m=audio 16738 RTP/AVP 0 8
a=rtcp:16739

<--- Transmitting SIP request (494 bytes) to UDP:147.135.128.132:5060 --->
ACK sip:[email protected];gr=urn:uuid:faf74411-dd7c-00a3-8ac0-185056f63d2c SIP/2.0
Via: SIP/2.0/UDP 10.0.0.10:5060;rport;branch=z9hG4bKPj2e866493-5dd8-4daf-b137-21b1d55d3abb
From: "Hall" <sip:[email protected]>;tag=16ddc5e0-7fe5-447e-8452-a2c84115613e
To: <sip:[email protected]>;tag=lFD9l19
Call-ID: b1fcc222-dbe3-464c-aebc-e4a9c4b3a217
CSeq: 13693 ACK
Route: <sip:147.135.128.132:5060;lr>
Max-Forwards: 70
User-Agent: FPBX-16.0.40.7(18.19.0)
Content-Length:  0


<--- Transmitting SIP response (951 bytes) to UDP:10.0.0.32:63280 --->
SIP/2.0 200 OK
Via: SIP/2.0/UDP 10.0.0.32:63280;rport=63280;received=10.0.0.32;branch=z9hG4bKPjfd65418a95424d989bde408c8374a166
Call-ID: 3c2cc841adf147cfa4086e98f9fb1e4e
From: "225" <sip:[email protected]>;tag=b0f123ddd39f486d8520f43179902d42
To: <sip:[email protected]>;tag=9eaa2aea-c210-4418-960f-1352af82639e
CSeq: 26207 INVITE
Server: FPBX-16.0.40.7(18.19.0)
Allow: OPTIONS, INVITE, ACK, BYE, CANCEL, UPDATE, PRACK, REGISTER, SUBSCRIBE, NOTIFY, PUBLISH, MESSAGE, REFER
Contact: <sip:10.0.0.10:5060>
Supported: 100rel, timer, replaces, norefersub
P-Asserted-Identity: "Linhome (Available)" <sip:[email protected]>
Content-Type: application/sdp
Content-Length:   279

v=0
o=- 3908693585 3908693587 IN IP4 10.0.0.10
s=Asterisk
c=IN IP4 10.0.0.10
t=0 0
m=audio 18354 RTP/AVP 0 8 9 101
a=rtpmap:0 PCMU/8000
a=rtpmap:8 PCMA/8000
a=rtpmap:9 G722/8000
a=rtpmap:101 telephone-event/8000
a=fmtp:101 0-16
a=ptime:20
a=maxptime:150
a=sendrecv

<--- Received SIP request (392 bytes) from UDP:10.0.0.32:63280 --->
ACK sip:10.0.0.10:5060 SIP/2.0
Via: SIP/2.0/UDP 10.0.0.32:63280;rport;branch=z9hG4bKPjc2ae1c9f529a410399a64e5505bcef52
Max-Forwards: 70
From: "225" <sip:[email protected]>;tag=b0f123ddd39f486d8520f43179902d42
To: <sip:[email protected]>;tag=9eaa2aea-c210-4418-960f-1352af82639e
Call-ID: 3c2cc841adf147cfa4086e98f9fb1e4e
CSeq: 26207 ACK
User-Agent: Blink 3.2.0 (Windows)
Content-Length:  0


<--- Transmitting SIP request (403 bytes) to UDP:10.0.0.2:5066 --->
OPTIONS sip:[email protected]:5066 SIP/2.0
Via: SIP/2.0/UDP 10.0.0.10:5060;rport;branch=z9hG4bKPj9a3bc348-fd91-447b-adc0-e7eda1926465
From: <sip:[email protected]>;tag=4e5ab646-ff28-44ee-aab4-b13d96d6e6dd
To: <sip:[email protected]>
Contact: <sip:[email protected]:5060>
Call-ID: b7a268e6-b77d-4668-a258-53127cef1356
CSeq: 52471 OPTIONS
Max-Forwards: 70
User-Agent: FPBX-16.0.40.7(18.19.0)
Content-Length:  0


<--- Received SIP response (475 bytes) from UDP:10.0.0.2:5066 --->
SIP/2.0 200 OK
Via: SIP/2.0/UDP 10.0.0.10:5060;rport=5060;branch=z9hG4bKPj9a3bc348-fd91-447b-adc0-e7eda1926465
From: <sip:[email protected]>;tag=4e5ab646-ff28-44ee-aab4-b13d96d6e6dd
To: <sip:[email protected]>;tag=278158032
Call-ID: b7a268e6-b77d-4668-a258-53127cef1356
CSeq: 52471 OPTIONS
Supported: replaces, path, timer, eventlist
User-Agent: Grandstream HT818 1.0.45.2
Allow: INVITE, ACK, OPTIONS, CANCEL, BYE, SUBSCRIBE, NOTIFY, INFO, REFER, UPDATE
Content-Length: 0


<--- Transmitting SIP request (403 bytes) to UDP:10.0.0.2:5074 --->
OPTIONS sip:[email protected]:5074 SIP/2.0
Via: SIP/2.0/UDP 10.0.0.10:5060;rport;branch=z9hG4bKPjac7aef59-d0e9-42e4-a06c-086753fb596a
From: <sip:[email protected]>;tag=86142928-66f6-4188-8550-d46055853a49
To: <sip:[email protected]>
Contact: <sip:[email protected]:5060>
Call-ID: 9003ea54-f755-4c54-8bb8-6d1ac9249369
CSeq: 31285 OPTIONS
Max-Forwards: 70
User-Agent: FPBX-16.0.40.7(18.19.0)
Content-Length:  0


<--- Received SIP response (475 bytes) from UDP:10.0.0.2:5074 --->
SIP/2.0 200 OK
Via: SIP/2.0/UDP 10.0.0.10:5060;rport=5060;branch=z9hG4bKPjac7aef59-d0e9-42e4-a06c-086753fb596a
From: <sip:[email protected]>;tag=86142928-66f6-4188-8550-d46055853a49
To: <sip:[email protected]>;tag=887375380
Call-ID: 9003ea54-f755-4c54-8bb8-6d1ac9249369
CSeq: 31285 OPTIONS
Supported: replaces, path, timer, eventlist
User-Agent: Grandstream HT818 1.0.45.2
Allow: INVITE, ACK, OPTIONS, CANCEL, BYE, SUBSCRIBE, NOTIFY, INFO, REFER, UPDATE
Content-Length: 0


<--- Transmitting SIP request (403 bytes) to UDP:10.0.0.2:5060 --->
OPTIONS sip:[email protected]:5060 SIP/2.0
Via: SIP/2.0/UDP 10.0.0.10:5060;rport;branch=z9hG4bKPj4a120a6f-0b2f-410a-91c3-2b2faca9e1e4
From: <sip:[email protected]>;tag=5dc0fb60-cd8c-4c2d-a061-4276a578b721
To: <sip:[email protected]>
Contact: <sip:[email protected]:5060>
Call-ID: f9fe3dc8-4f49-4510-859e-e065870bcb22
CSeq: 21607 OPTIONS
Max-Forwards: 70
User-Agent: FPBX-16.0.40.7(18.19.0)
Content-Length:  0


<--- Received SIP response (475 bytes) from UDP:10.0.0.2:5060 --->
SIP/2.0 200 OK
Via: SIP/2.0/UDP 10.0.0.10:5060;rport=5060;branch=z9hG4bKPj4a120a6f-0b2f-410a-91c3-2b2faca9e1e4
From: <sip:[email protected]>;tag=5dc0fb60-cd8c-4c2d-a061-4276a578b721
To: <sip:[email protected]>;tag=628801568
Call-ID: f9fe3dc8-4f49-4510-859e-e065870bcb22
CSeq: 21607 OPTIONS
Supported: replaces, path, timer, eventlist
User-Agent: Grandstream HT818 1.0.45.2
Allow: INVITE, ACK, OPTIONS, CANCEL, BYE, SUBSCRIBE, NOTIFY, INFO, REFER, UPDATE
Content-Length: 0


<--- Transmitting SIP request (428 bytes) to UDP:147.135.128.132:5060 --->
OPTIONS sip:sip.linphone.org SIP/2.0
Via: SIP/2.0/UDP 10.0.0.10:5060;rport;branch=z9hG4bKPj9b5c6dce-fb19-4fab-aafc-a1b39a68ece6
From: <sip:[email protected]>;tag=6c169655-34b9-4ef9-b8e8-22ca19b68191
To: <sip:sip.linphone.org>
Contact: <sip:[email protected]:5060>
Call-ID: 13694c40-8560-4969-ac2e-bd4e25569001
CSeq: 24276 OPTIONS
Max-Forwards: 70
User-Agent: FPBX-16.0.40.7(18.19.0)
Content-Length:  0


<--- Received SIP response (350 bytes) from UDP:147.135.128.132:5060 --->
SIP/2.0 200 OK
Via: SIP/2.0/UDP 10.0.0.10:5060;rport=5060;branch=z9hG4bKPj9b5c6dce-fb19-4fab-aafc-a1b39a68ece6;received=85.123.123.123
From: <sip:[email protected]>;tag=6c169655-34b9-4ef9-b8e8-22ca19b68191
To: <sip:sip.linphone.org>;tag=2e013r44399ca
Call-ID: 13694c40-8560-4969-ac2e-bd4e25569001
CSeq: 24276 OPTIONS
Content-Length: 0


freepbx*CLI> off
No such command 'off' (type 'core show help off' for other possible commands)
<--- Received SIP request (548 bytes) from UDP:147.135.128.132:5060 --->
BYE sip:[email protected]:5060 SIP/2.0
Via: SIP/2.0/UDP 147.135.128.132;rport;branch=z9hG4bK.Sv2aXa0X5FSjQtDKtggj8pDpBg
Via: SIP/2.0/UDP 10.0.0.194:49862;branch=z9hG4bK.3fboERx1S;rport=1099;received=85.123.123.123
From: <sip:[email protected]>;tag=lFD9l19
To: "Hall" <sip:[email protected]>;tag=16ddc5e0-7fe5-447e-8452-a2c84115613e
CSeq: 111 BYE
Call-ID: b1fcc222-dbe3-464c-aebc-e4a9c4b3a217
Max-Forwards: 69
User-Agent: Linhome/1.2 (OnePlus Nord CE 5G) LinphoneSDK/5.2.65-pre.2+5688d2a (release/5.2)
Content-Length: 0


<--- Transmitting SIP response (472 bytes) to UDP:147.135.128.132:5060 --->
SIP/2.0 200 OK
Via: SIP/2.0/UDP 147.135.128.132;rport=5060;received=147.135.128.132;branch=z9hG4bK.Sv2aXa0X5FSjQtDKtggj8pDpBg
Via: SIP/2.0/UDP 10.0.0.194:49862;rport=1099;received=85.123.123.123;branch=z9hG4bK.3fboERx1S
Call-ID: b1fcc222-dbe3-464c-aebc-e4a9c4b3a217
From: <sip:[email protected]>;tag=lFD9l19
To: "Hall" <sip:[email protected]>;tag=16ddc5e0-7fe5-447e-8452-a2c84115613e
CSeq: 111 BYE
Server: FPBX-16.0.40.7(18.19.0)
Content-Length:  0


<--- Transmitting SIP request (431 bytes) to UDP:10.0.0.32:63280 --->
BYE sip:[email protected]:63280 SIP/2.0
Via: SIP/2.0/UDP 10.0.0.10:5060;rport;branch=z9hG4bKPj76aeb4a8-09cf-448f-8f90-ccfb6b976b95
From: <sip:[email protected]>;tag=9eaa2aea-c210-4418-960f-1352af82639e
To: "225" <sip:[email protected]>;tag=b0f123ddd39f486d8520f43179902d42
Call-ID: 3c2cc841adf147cfa4086e98f9fb1e4e
CSeq: 18385 BYE
Reason: Q.850;cause=16
Max-Forwards: 70
User-Agent: FPBX-16.0.40.7(18.19.0)
Content-Length:  0


<--- Received SIP response (381 bytes) from UDP:10.0.0.32:63280 --->
SIP/2.0 200 OK
Via: SIP/2.0/UDP 10.0.0.10:5060;rport=5060;received=10.0.0.10;branch=z9hG4bKPj76aeb4a8-09cf-448f-8f90-ccfb6b976b95
Call-ID: 3c2cc841adf147cfa4086e98f9fb1e4e
From: <sip:[email protected]>;tag=9eaa2aea-c210-4418-960f-1352af82639e
To: "225" <sip:[email protected]>;tag=b0f123ddd39f486d8520f43179902d42
CSeq: 18385 BYE
Server: Blink 3.2.0 (Windows)
Content-Length:  0


<--- Transmitting SIP request (410 bytes) to UDP:10.0.0.1:5060 --->
OPTIONS sip:10.0.0.1 SIP/2.0
Via: SIP/2.0/UDP 10.0.0.10:5060;rport;branch=z9hG4bKPjae45759c-5638-4710-acc8-0c60ead867ac
From: <sip:[email protected]>;tag=e63897f9-de2d-4b5f-b4dd-b9dc4dcdec8c
To: <sip:10.0.0.1>
Contact: <sip:[email protected]:5060>
Call-ID: 59400343-f57b-46cb-837c-87e99a9db131
CSeq: 38138 OPTIONS
Max-Forwards: 70
User-Agent: FPBX-16.0.40.7(18.19.0)
Content-Length:  0


<--- Transmitting SIP request (410 bytes) to UDP:10.0.0.1:5060 --->
OPTIONS sip:10.0.0.1 SIP/2.0
Via: SIP/2.0/UDP 10.0.0.10:5060;rport;branch=z9hG4bKPjae45759c-5638-4710-acc8-0c60ead867ac
From: <sip:[email protected]>;tag=e63897f9-de2d-4b5f-b4dd-b9dc4dcdec8c
To: <sip:10.0.0.1>
Contact: <sip:[email protected]:5060>
Call-ID: 59400343-f57b-46cb-837c-87e99a9db131
CSeq: 38138 OPTIONS
Max-Forwards: 70
User-Agent: FPBX-16.0.40.7(18.19.0)
Content-Length:  0