Hello, I am new into this forum, I previuosly tried to search for this answer, but nothing came up.
My scenario is a FreePBX 15.0.17.43. One single extension Chan_SIP and one SIP trunk.
When I make an Inbound call from PSTN to my SIP trunk with destination 100 which is my one extension I get up to 6 or more calls from the same call. It shows up in the phone, CDR and the CLI
I don't know what this is, It has No ring group, no follow me, nor queue.
Attached you will find evidence from CDR of this multiple calls.
If a run the command core show channels, this many calls are visible.
Also if I send this inbound call to an IVR destination, only ONE call shows up when I run the command, but in CDR appears to be 6 or more.
Also if I send this inbound call to and IVR destination, and I dial one option with destination 100, only one call shows up in the phone, but in CDR shows 6 or more.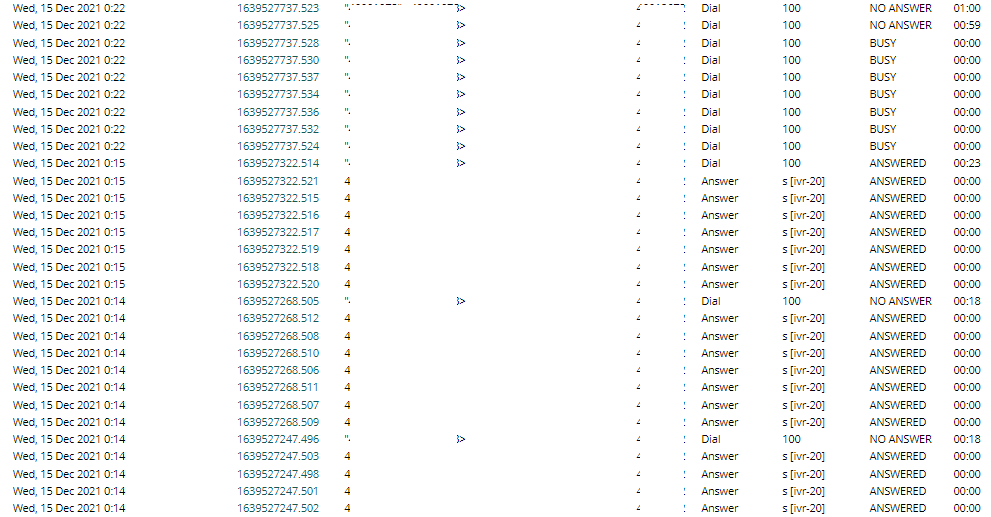 Does Anyone knows what this might be?
In advanced I thank you for your help.