Hi,
I have posted about this before but I have unfortunately not yet managed to identify the root cause of this problem. Sometimes, I'll receive an incoming call and it will ring a Ring Group, but the call will get lost and there will be loads of "1 second calls" from "unknown". If I pick up one of the phones, all I will hear is the dial tone, whilst the other phones in the group will still be ringing.
It's such a strange problem and I am still quite new to FreePBX, so I am not totally familiar with troubleshooting the routing of calls. When I look at the CDR Report though, it shows 4 "1 second calls" with the callers CID and then the rest is 1 second calls, all with unknown CID? Even though this was a scam call, I've covered the number in the screenshot but where there is red, is where FreePBX had the callers CID and this shows on the phones on the first 4 rings, but then shows "unknown" for the remaining 1 second calls.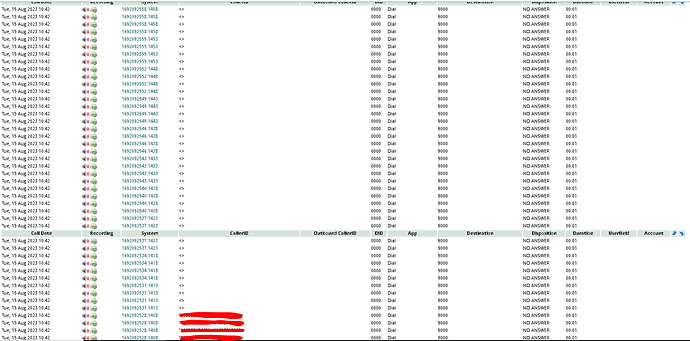 I would much appreciate any help that I could be given with this.
Cheers,
Richie