So I have a FreePBX server appliance for our office, with Grandstream GXP2160's around the office. I am setting up our first phone (mine) and I came across a few problems.
The account is registered but when I dial out:
A) I hear no dial tone,
B) When it rings my cell it appears "unknown," &
C) When I answer both ends will not transfer voice, meaning neither ends can pickup or receive communication (in this case my voice.)
Here is my current set up:
Server: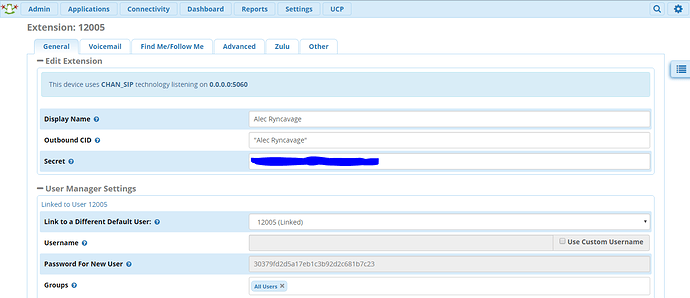 Phone:
Account Name: Alec Ryncavage
Sip Server: 192.168.1.110
Secondary Sip Server: 192.168.1.110
Outbound Proxy:
BLF Server:
SIP user ID: 12005
Authenticate ID: 12005
Authenticate Pass: (My secret password for FreePBX extension menu.)
Name: Alec Ryncavage
VoiceMail User ID:
(Sorry for only one image, I am a new user so they do not allow me to have them.)
Can someone please explain to me what I should do?
***Also just in case this is the problem:
I am using Sip.US as my Sip trunk service and I configured it using there FreePBX client module and I have not change or added any settings to it since I purchased it.
Thank you!
Best regards,
Alec Ryncavage.