Hi everyone.
I have been working on freepbx from an old PC i was using. I installed FreePBX v16 on it.
I bought a mini PC (MeLE Quieter2Q) to run as I want to roll out the phone system now, as i have it working fully…
However, I am trying to install FreePBX (using the same USB stick and ISO file that I previously used on the old PC) on this new mini pc, and it won't work…
When I load up I select 'Install FreePBX v16 (Asterisk 16) (Recommended)
Then I get to a page which says 'Installation Summary' and under 'System' and 'Installation Destination' it says 'No disks selected' When I click into this box, I see my hard drive and it says '115.23 GB Capacity 115.23 GB Free' → I click on this hard drive at the top, click Done, and I get a screen saying
'New SangomaOS 7.8 2204-1 Installation. You haven't created any mount points for you SangomaOS 7.8 2204-1 installation yet. You can create them automatically' etc. however, at the bottom of the screen, it says 'Available space 117.97 MiB' 'Total Space 115.23 GiB' ?
Where did the 115 gigabytes go? FreePBX only requires 2-3 GB?
I am confused as this worked easily on the old computer, I just plugged it in and installed in a few minutes.
edit: I have attached the image of it failing when I click 'Done' on the last menu where it asks me to create mount points.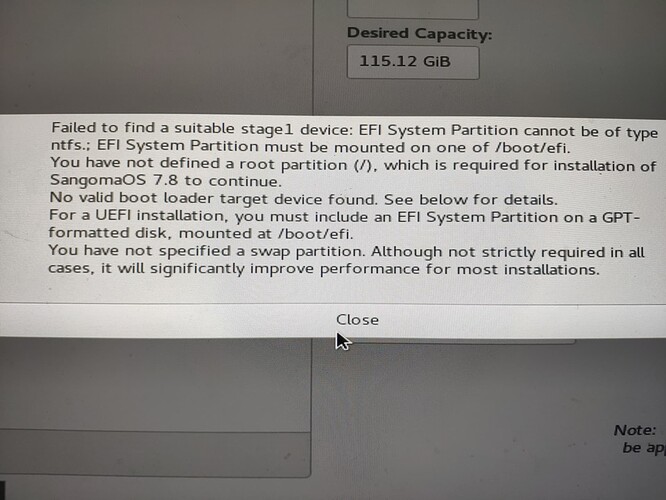 2nd edit: attempting automatic installation, there are problems with the hard drive again. 'Requested boot drve 'mmcb1k0boot0' doesn't exist or cannot be used.'