Hello,
This is a brand new installation. The only thing I activated that is "special" is "iSymphony", which works.
Yesterday, when I stopped working on my Freepbx install, I was re-creating the extension. This morning, I added the desktop agents for Isymphony and stopped and started the service. Then decided I would go take a look at my extensions as they don't all show in iSymphony, and here's the page that was waiting for me on my Freepbx fresh and clean SNG7 install.
ErrorException (E_ERROR) Class 'sipstation' not found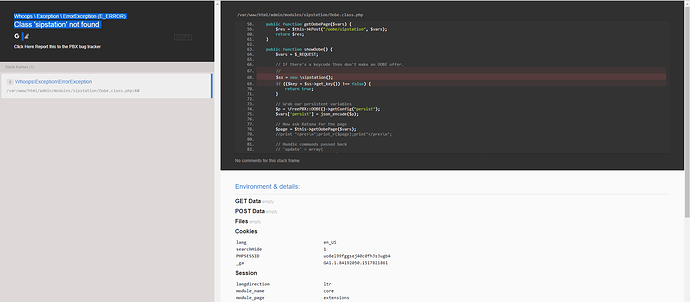 Frankly, I have no idea what causes these issues on my system, but they keep coming. I thought it was the conversion tool that was bringing some old stuff back from my 32 bit version, but on this install: i did not use the conversion tool and went straight with the ISO install of SNG7.
When I log in into the CLI, I see that the system has numerous System Updates available and numerous Modules as well… I had done all of those PRIOR to creating my extensions! It's as if my VM had reverted to a previous state… by itself.
I did execute "checkpoints" on my hyper-V virtual machine, so I can revert to a previous state; I'm more curious to understand what could be causing the issue shown here.
Thanks!