For a few client's systems I have setup a local calendar for when they need special messages. There is a time condition so whenever the time matches an event on this calendar it will go to a special recorded message. It is very easy to create a calendar event as opposed to changing a time group constantly.
The events on this LOCAL calendar have start and end times i.e. 1am to 5pm and last for several days… standard procedure.
However no matter what the end time of the event is, the time condition treats the event as if it's ALL DAY, i.e. 00:01-23:59 therefore completely disregarding what is actually needed. What is actually needed is for the PBX to follow the start and end times and disengage the rule once the end time is over and before the start time starts, obviously.
Here's a screenshot of a calendar event; it is supposed to be Aug 29-Sept 6/2022 from 1am-5pm. However when anyone calls outside the times of 1am-5pm (i.e. someone calls at 6pm) they are STILL hearing the time condition which is only supposed to be active during the event time of 1am-5pm.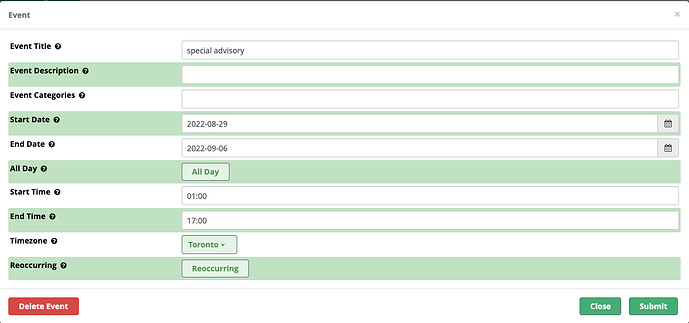 I checked and it is not an issue with the time condition configuration on the PBX because that is really simple - if time matches event on "Special Message" calendar, then send them to a specific voicemail box. ELSE, send them to a ring group so they can talk with the receptionist. The problem is that no matter what time the event is configured, i.e. today from 6pm-8pm, the system thinks the event is 24hrs - the start and end times of the event are being completely disregarded. I am guessing this is a BUG. Can anyone else reproduce this and if so, Sangoma please fix this ASAP.
This is Sangoma PBXAct UC25
version 12.7.8-2203-2.sng7.
PBX 15.0.23.17