Using Asterisk version 16.28.0, and FreePBX version 16.0.33.
I've done an upgrade of the FreePBX platform using the usual command line
sudo -u asterisk fwconsole ma updateall
and when restaring the FreePBX application, I am getting the following error message displayed on the FreePBX dashboard:
DEST STATUS: EMPTY
Blacklist: Destination for BlackListed Calls

as outlined with the following screen dump under the "Dashboard → System Overview" panel: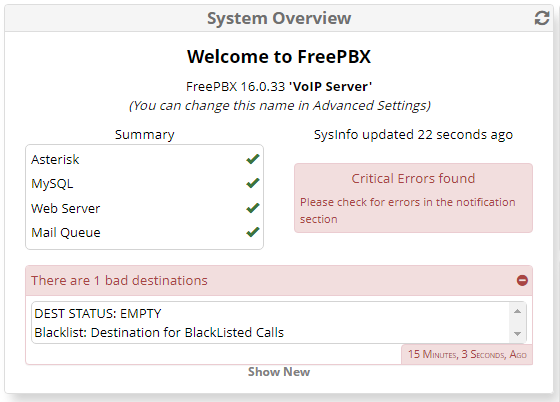 :
Under "Admin → Blacklist" I double-checked the list of phone numbers I have blacklisted, and all entries are correct.
Any pointer on how I can troubleshoot further to find the source of the problem that occurred after today's upgrade?