They are called 'bad guys' you need to change to avoid 'quite likely' possible consequences.
(this, well covered in recent months in these fora)
There is no ARI user for there to be a username…is this some vulnerability?
Yes , look at the posts here
Dicko, what post? How to resolve the issue?
This what the doc says…nothing about how to turn off or disable if there is no user.
How is the Asterisk REST Interface Users Module related to the other Modules?
The Asterisk REST interface allows for real time interaction with Asterisk and can affect anything within the scope of the ARI.
How Do I Get to the Asterisk REST Interface Users Module?
Log in to the FreePBX UI.
On the top menu click Settings
In the drop down click Asterisk REST Interface User
I think there were a few others, but I think, at 200 posts, it is probably the main thread.
I haven't gotten to post 200 yet; however, in my case, I updated the modules and when I rebooted that's what I see. I don't have any ports open. I have even upgraded Asterick to 20…no change.
Go to advanced-settings…switch show-hidden-settings (or similar) on…change ARI username and password…
Okay; however, as stated prior, there is no ARI user or password. Did this ARI module came with a vulnerability? I read through the thread last night and am still confused, appeared as a waste of valuable time. I did change ARI to read only, and the message seems to go away, but it leaves me wondering about this freePBX.
That's because I don't have what you had presented in the screen shot…here's is my screen shot below…there is no freepbxuser - new.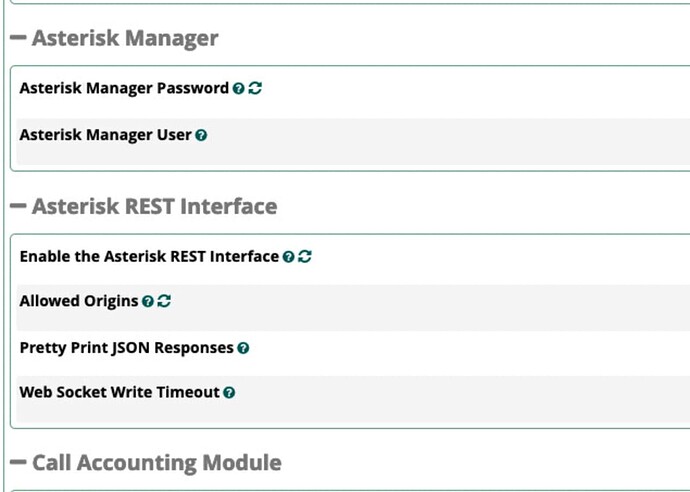 Apparently you have as yet refused to allow changing 'readonly' settings as instructed, why would you not do that yet still 'not understand' ?
Well, this news is embarrassing and what happens when one has been away from FreePBX for awhile. I forgot to apply conf…all is good now, ARI user changed.

This topic was automatically closed 30 days after the last reply. New replies are no longer allowed.