Hi
I am getting confused about the call groups concept in FreePBX.
(I know pickup groups are something to let you dial a code and take a call that is ringing in a different extension, part of the same pickup group as your extension. That is not what my question is about.)
(I know ring groups are a way for you to dial a single number and have FreePBX ring a group of extensions. That is not what my question is about.)
By call groups I mean the thing defined in each Extensions properties, Advanced tab: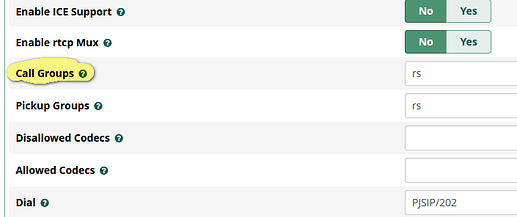 The help text is not very helpful, providing no clue as to what it does:
Callgroup(s) that this device is part of, can be one or more alpha/numeric callgroups, e.g. '1,3000-3005,sales,sales2'.
What I thought this was:
A way to limit which extensions this extension could dial. So, I was expecting that any extensions with the rs call group could only dial other extensions that listed the same call group.
I wanted to use this to effectively split the office into two groups of extensions that could not dial between them, except for a single extension that would include both groups and be able to dial every one.
I am even convinced that I verified this with tests in one installation, and things worked as planned.
But…
But I've set this up in a different installation and still everyone can call everyone. It's as if the call group field is not taking any effect.
So, do I have my concepts wrong or should I just be troubleshooting why the definition is not taking effect in a particular installation?
Thanks in advance for any help!