Have a client with an on-prem PBXAct system and twice in the last 7 days it suddenly stopped passing calls for about 10 minutes. It behaved similar to if I were to push the red apply config button, but we didn't press it.
In today's instance, I screenshot the graph of memory and CPU usage to show how CPU spiked and memory flatlined at the timestamp 09:14:09.
Can anyone make sense of the logs during this time to help me determine root cause. Can include more of the logs if needed. Thanks!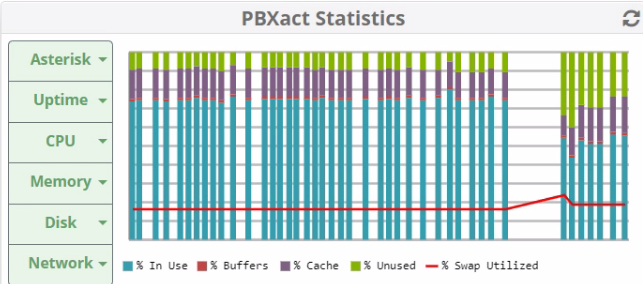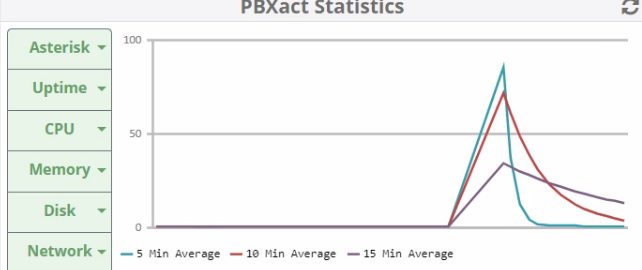 [2022-08-04 09:13:31] VERBOSE[26296][C-00000659] pbx_builtins.c: Goto (ivr-3,s,8)
[2022-08-04 09:13:31] VERBOSE[26296][C-00000659] pbx.c: Executing [[email protected]:8] Set("PJSIP/GentleSpeak-00000f0e", "IVR_MSG=custom/IVR_Instructions_-_updated_1") in new stack
[2022-08-04 09:13:31] VERBOSE[26296][C-00000659] pbx.c: Executing [[email protected]:9] Set("PJSIP/GentleSpeak-00000f0e", "TIMEOUT(digit)=3") in new stack
[2022-08-04 09:13:31] VERBOSE[26296][C-00000659] func_timeout.c: Digit timeout set to 3.000
[2022-08-04 09:13:31] VERBOSE[26296][C-00000659] pbx.c: Executing [[email protected]:10] ExecIf("PJSIP/GentleSpeak-00000f0e", "1?Background(custom/IVR_Instructions_-_updated_1)") in new stack
[2022-08-04 09:13:31] VERBOSE[26296][C-00000659] file.c: <PJSIP/GentleSpeak-00000f0e> Playing 'custom/IVR_Instructions_-_updated_1.ulaw' (language 'en')
[2022-08-04 09:13:35] NOTICE[5937] res_pjsip_exten_state.c: Endpoint '1047' state subscription failed: Extension '*992*15*1047*1' does not exist in context 'from-internal' or has no associated hint
[2022-08-04 09:13:36] NOTICE[26212] res_pjsip_exten_state.c: Endpoint '1047' state subscription failed: Extension '*992*11*1047*1' does not exist in context 'from-internal' or has no associated hint
[2022-08-04 09:13:36] NOTICE[4039] res_pjsip_exten_state.c: Endpoint '1047' state subscription failed: Extension '*992*12*1047*1' does not exist in context 'from-internal' or has no associated hint
[2022-08-04 09:14:08] NOTICE[12801] res_pjsip_exten_state.c: Endpoint '1017' state subscription failed: Extension '*992*15*1017*1' does not exist in context 'from-internal' or has no associated hint
[2022-08-04 09:14:09] NOTICE[19149] res_pjsip_exten_state.c: Endpoint '1017' state subscription failed: Extension '*992*11*1017*1' does not exist in context 'from-internal' or has no associated hint
[2022-08-04 09:14:09] NOTICE[3885] res_pjsip_exten_state.c: Endpoint '1017' state subscription failed: Extension '*992*12*1017*1' does not exist in context 'from-internal' or has no associated hint
[2022-08-04 09:14:12] VERBOSE[26296][C-00000659] pbx.c: Executing [[email protected]:1] Set("PJSIP/GentleSpeak-00000f0e", "__ivrreturn=0") in new stack
[2022-08-04 09:14:12] VERBOSE[26296][C-00000659] pbx.c: Executing [[email protected]:2] Goto("PJSIP/GentleSpeak-00000f0e", "ext-group,102,1") in new stack
[2022-08-04 09:14:12] VERBOSE[26296][C-00000659] pbx_builtins.c: Goto (ext-group,102,1)
[2022-08-04 09:14:12] VERBOSE[26296][C-00000659] pbx.c: Executing [[email protected]:1] GotoIf("PJSIP/GentleSpeak-00000f0e", "0?cid") in new stack
[2022-08-04 09:14:12] VERBOSE[26296][C-00000659] pbx.c: Executing [[email protected]:2] PlayTones("PJSIP/GentleSpeak-00000f0e", "ring") in new stack
[2022-08-04 09:14:12] VERBOSE[26296][C-00000659] pbx.c: Executing [[email protected]:3] Progress("PJSIP/GentleSpeak-00000f0e", "") in new stack
[2022-08-04 09:14:12] VERBOSE[26296][C-00000659] pbx.c: Executing [[email protected]:4] Macro("PJSIP/GentleSpeak-00000f0e", "user-callerid,") in new stack
[2022-08-04 09:14:12] VERBOSE[26296][C-00000659] pbx.c: Executing [[email protected]:1] Set("PJSIP/GentleSpeak-00000f0e", "TOUCH_MONITOR=1659618806.16656") in new stack
[2022-08-04 09:14:12] VERBOSE[26296][C-00000659] pbx.c: Executing [[email protected]erid:2] Set("PJSIP/GentleSpeak-00000f0e", "CHANCONTEXT=") in new stack
[2022-08-04 09:14:12] VERBOSE[26296][C-00000659] pbx.c: Executing [[email protected]:3] Set("PJSIP/GentleSpeak-00000f0e", "CHANCONTEXT=") in new stack
[2022-08-04 09:14:12] VERBOSE[26296][C-00000659] pbx.c: Executing [[email protected]:4] Set("PJSIP/GentleSpeak-00000f0e", "CHANEXTENCONTEXT=GentleSpeak-00000f0e") in new stack
[2022-08-04 09:14:12] VERBOSE[26296][C-00000659] pbx.c: Executing [[email protected]:5] Set("PJSIP/GentleSpeak-00000f0e", "CHANEXTEN=GentleSpeak-00000f0e") in new stack
[2022-08-04 09:14:12] VERBOSE[26296][C-00000659] pbx.c: Executing [[email protected]:6] Set("PJSIP/GentleSpeak-00000f0e", "CALLERID(number)=13176053022") in new stack
[2022-08-04 09:14:12] VERBOSE[26296][C-00000659] pbx.c: Executing [[email protected]:7] Set("PJSIP/GentleSpeak-00000f0e", "AMPUSER=13176053022") in new stack
[2022-08-04 09:14:12] VERBOSE[26296][C-00000659] pbx.c: Executing [[email protected]:8] Set("PJSIP/GentleSpeak-00000f0e", "HOTDESCKCHAN=GentleSpeak-00000f0e") in new stack
[2022-08-04 09:14:12] VERBOSE[26296][C-00000659] pbx.c: Executing [[email protected]:9] Set("PJSIP/GentleSpeak-00000f0e", "HOTDESKEXTEN=GentleSpeak") in new stack
[2022-08-04 09:14:12] VERBOSE[26296][C-00000659] pbx.c: Executing [[email protected]:10] Set("PJSIP/GentleSpeak-00000f0e", "HOTDESKCALL=0") in new stack
[2022-08-04 09:14:12] VERBOSE[26296][C-00000659] pbx.c: Executing [[email protected]:11] ExecIf("PJSIP/GentleSpeak-00000f0e", "0?Set(HOTDESKCALL=1)") in new stack
[2022-08-04 09:14:12] VERBOSE[26296][C-00000659] pbx.c: Executing [[email protected]:12] ExecIf("PJSIP/GentleSpeak-00000f0e", "0?Set(CALLERID(name)=)") in new stack
[2022-08-04 09:14:12] VERBOSE[26296][C-00000659] pbx.c: Executing [[email protected]:13] GotoIf("PJSIP/GentleSpeak-00000f0e", "0?report") in new stack
[2022-08-04 09:14:12] VERBOSE[26296][C-00000659] pbx.c: Executing [[email protected]:14] ExecIf("PJSIP/GentleSpeak-00000f0e", "1?Set(REALCALLERIDNUM=13176053022)") in new stack
[2022-08-04 09:14:12] VERBOSE[26296][C-00000659] pbx.c: Executing [[email protected]:15] Set("PJSIP/GentleSpeak-00000f0e", "AMPUSER=") in new stack
[2022-08-04 09:14:12] VERBOSE[26296][C-00000659] pbx.c: Executing [[email protected]:16] GotoIf("PJSIP/GentleSpeak-00000f0e", "0?limit") in new stack
[2022-08-04 09:14:12] VERBOSE[26296][C-00000659] pbx.c: Executing [[email protected]:17] Set("PJSIP/GentleSpeak-00000f0e", "AMPUSERCIDNAME=") in new stack
[2022-08-04 09:14:12] VERBOSE[26296][C-00000659] pbx.c: Executing [[email protected]:18] ExecIf("PJSIP/GentleSpeak-00000f0e", "0?Set(__CIDMASQUERADING=TRUE)") in new stack
[2022-08-04 09:14:12] VERBOSE[26296][C-00000659] pbx.c: Executing [[email protected]:19] GotoIf("PJSIP/GentleSpeak-00000f0e", "1?report") in new stack
[2022-08-04 09:14:12] VERBOSE[26296][C-00000659] pbx_builtins.c: Goto (macro-user-callerid,s,28)
[2022-08-04 09:14:12] VERBOSE[26296][C-00000659] pbx.c: Executing [[email protected]:28] NoOp("PJSIP/GentleSpeak-00000f0e", "Macro Depth is 1") in new stack
[2022-08-04 09:14:12] VERBOSE[26296][C-00000659] pbx.c: Executing [[email protected]:29] GotoIf("PJSIP/GentleSpeak-00000f0e", "1?report2:macroerror") in new stack
[2022-08-04 09:14:12] VERBOSE[26296][C-00000659] pbx_builtins.c: Goto (macro-user-callerid,s,30)
[2022-08-04 09:14:12] VERBOSE[26296][C-00000659] pbx.c: Executing [[email protected]:30] GotoIf("PJSIP/GentleSpeak-00000f0e", "0?continue") in new stack
[2022-08-04 09:14:12] VERBOSE[26296][C-00000659] pbx.c: Executing [[email protected]:31] ExecIf("PJSIP/GentleSpeak-00000f0e", "1?Set(__CALLEE_```