FreePBX Version: 16.0.19
Asterisk: 16.25.0
Core: 16.0.63
I have over a dozen different servers I host FreePBX on for customers. I'm not sure what happened or even when. I ran all of the current updates as of yesterday (inline to run those security patches), and now my FreePBX Statistics on every single server is blank: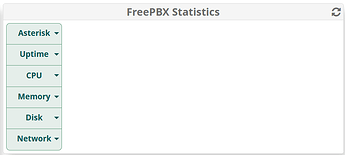 One of the servers I have I even performed a full restart, and it still shows blank after nearly 24 hours. If I click on any other metric, such as Uptime, CPU, etc, all of those update and show the appropriate graph. Anyone know why only the Asterisk metrics are blank?