Hello, I'm trying to use FreePBX as a trunking option for Bicom PBXWare.
What I did was to set-up:
In freepbx:
-Outbound routes via bandwidth trunk.
-Create an extension (200) in freepbx with a lot of channels.
In PBXware:
-Create a trunk type friend using the FreePBX extension info (200).
For outbound is working correctly, my PBXWare users can dial out and pass the caller ids without issue.
However for inbound the following is happening:
-I have a XYZ DID in Bandwidth trunk
-XYZ is configured as Inbound route in FreePBX and set to send the calls to EXT 200
-PBXWare is receiving the call, HOWEVER, Im not receiving XYZ as the incoming DID, I'm receiving 200.
So, the main question here is: Its possible to pass the inbound route DID instead the ext. number to PBXWare?
An sketch of the set-up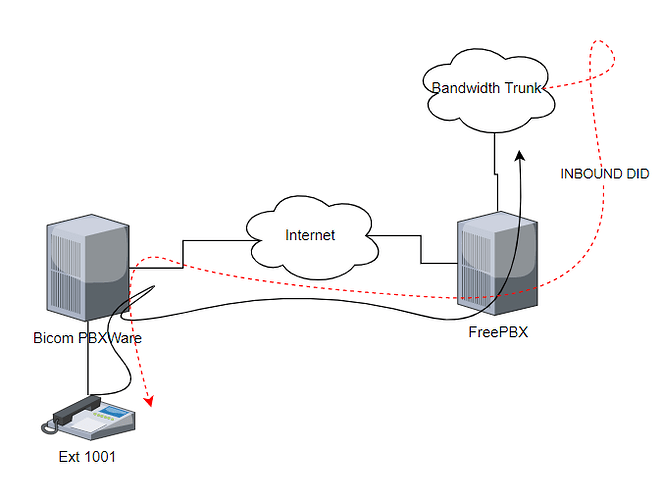 This is what I'm receiving in PBXware for inbound instead XYZ
|From|To|Date/Time|Total Duration|Rating Duration|Rating Cost|Status||
||1469XXXXXX|200|Feb 16 2022 02:02:55 PM|00:00:08|00:00:03||Answered|
Note: I can not set-up this specific Bandwidth trunk directly on PBXWare.
Note2: I'm a novel using Freepbx, so I guess somebody is going to tell me that use an extension as a trunk is just a bad idea, if so, please provide some guidance about what should be done to get more documentation and work on it.
Thanks in advanced for any help